Malaysian police said on Friday (Feb 24) a preliminary report showed the murder of Kim Jong Nam was carried out with a highly toxic chemical known as VX nerve agent. The Inspector General of Malaysia Khalid Abu Bakar said in a press release that the Centre for Chemical Weapons identified the substance in its preliminary analysis.
Previously, police suspect the Indonesian woman poisoned Kim 46, on Monday at Kuala Lumpur airport. Also detained was an alleged accomplice, who was travelling on a Vietnamese passport and was believed to be the same person captured on CCTV in the airport with "LOL" written on her shirt.
The police said swabs were taken from the eye and the face of the dead North Korean national. "Other exhibits are under analysis," Khalid said in the statement. Malaysian police added the substance was identified as ethyl S-2-Diisopropylaminoethyl methylphosphonothiolate (or VX nerve agent) in a report by its chemistry department. The substance is a chemical weapon classified as a weapon of mass destruction by the United Nations.
The argued VX poison is tasteless and odourless, and is outlawed under the Chemical Weapons Convention, except for "research, medical or pharmaceutical purposes". It can be manufactured as a liquid, cream or aerosol. Absorbed in large doses, it is fatal after 15 minutes, according to the U.S. Army's Edgewood Chemical Biological Center, making it the most toxic known nerve agent in the world. Kim Jong Nam is the half-brother of North Korean leader Kim Jong Un.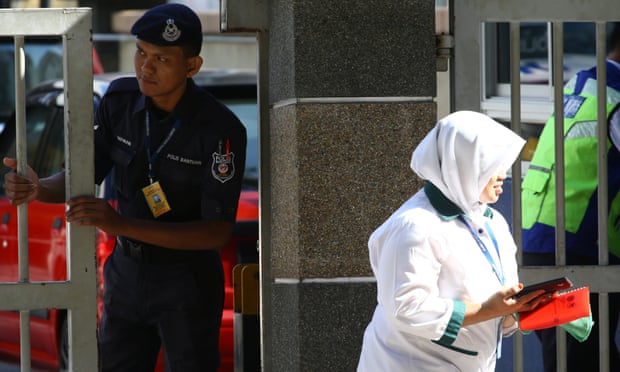 Details emerging from the Indonesian media and interviews with people close to Siti suggest she was a quiet woman who moved to Malaysia with her husband in 2011 to seek a better life after the garment-making shop they ran from home went out of business. Her former father-in-law, Lian Kiong alias Akiong, told the Indonesian website detik.com she had met his son Gunawan Hasyim, while working in the store, and the two had subsequently married. Siti gave birth to a son, Rio, in 2009.
He described Siti as a "very kind, polite and respectful person", telling Associated Press: "I was shocked to hear that she was arrested for murdering someone. Her parents also imply that "She is just a graduatee of a public elementry school and barely speaks bahasa and malay instead of well versed in Korean and mandarin as been stated by the Malaysian police.  "I don't believe that she would commit such a crime or what the media says that she is an intelligence agent."
"At first she worked in Malaysia with my son, not long after she gave birth," he told local reporters from his home. The couple then moved to Malaysia after he urged them to because the business was not strong enough to sustain them. "I said go work there, save some money and then come back here and open a business," he said.
According to Akiong, Siti found a job as a shopkeeper in Malaysia, while his son worked in a restaurant. Gunawan returned to Jakarta after their marriage turned sour, and the pair divorced. Siti has only seen her seven-year-old son, Rio, who stays in Jakarta, about once a year.
Police chief Khalid said earlier that a Vietnamese woman and a Indonesian woman wiped a liquid on Kim Jong Nam's face. They later washed their hands and fled the scene. Airport camera footage released on Monday by Japanese broadcaster Fuji TV shows the moment the women appeared to assault Kim Jong Nam, who is later seen asking airport officials for medical help. He died on the way to hospital. Malaysia on Thursday requested Interpol to put an alert out to apprehend four North Korean suspects in the murder. Police are also holding one North Korean man, but are seeking another seven in connection with the murder.
Indonesian immigration officials say Siti left Indonesia on 2 February via a ferry from Batam to Johor. An unverified report that originated on a Chinese website claimed the young Indonesian woman was approached in a nightclub and offered $100 to take part in filming a "reality TV prank". The Malaysian government however, did not give access yet to diplomatic investigator and lawyers from Indonesian government to aid their investigation.
---