For years Bali, the pearl among the Sunda Islands, has been touted as an earthly paradise, thanks to the tropical landscapes and Balinese people who are rich in culture and hospitality. When you visit Bali it's not all about the stunning beaches and beautiful sunsets, it's all about that spiritual journey. Bali is referred to as the "Island Of The Gods" for a reason. This Island is so strong in culture and dedicated to peaceful minds. Perhaps the newlywed feel the same way as they entrusted themselves to be hosted in Bali.

Bali, the land of beauty surely attracts many loving couples from around the world to commit their sacred matrimony of longlasting love. Taiwanese television stars Ruby Lin and Wallace Huo got married at Bulgari Resort Bali on Sunday (July 31) and the wedding, by the account of Apple Daily, went according to script.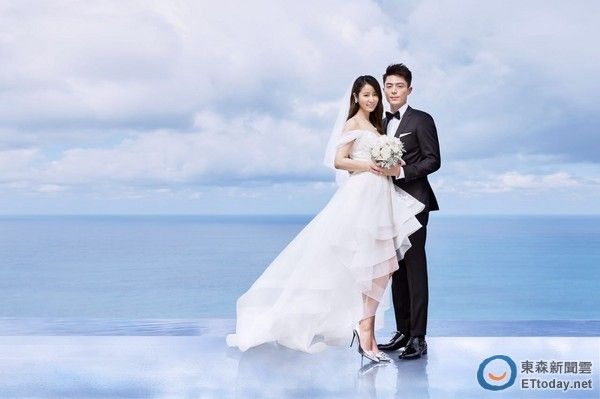 As the couple exchanged vows in a ceremony overlooking the Indian Ocean, the groom said with a shy laugh: "I've known you for so long. Being friends with you was, to me, a very lucky thing. Becoming husband and wife is, to me, a more fortunate thing." Bali indeed the finest place for such a wonderful ocassion. On that day, the idea of an island paradise, Bali creates a unique impression that will envy many other couples to follow suit.
"There will be a lot of ups and downs, and a lot of tests. I hope we can, hand in hand, work together to face the future together. I love you."
The couple tied the knot in Bali as the bride, who wore a Zuhair Murad wedding dress, thanked her husband for his "goodness" and "tolerance". "Starting today, we're a family," she said. Choking up, she assured him: "When you're out and you're tired, exhausted, don't forget, I'll always be at home waiting for you. Forever. I love you."
Huo, 36, and Lin, 40, then held hands and kissed. They were said to have been friends for 10 years, before they got together at her birthday party in January this year. Their marriages were one of the finest Wedding Venue Ideas on this 2016. Bali has conclude another sacred matrimony and adds the bar as they've been entrusted as the ideal destination for holding that perfect day.
The wedding decorations might looks humble in many way (Balinese "manggar tree" are made from coconut's floral crown and younger leaves which promotes fruitions of love and new beginning in Indonesian culture) yet the guest were entertained with the most luxurious accommodation and breathtaking allure of Bali, even attracts actress Vicki Zhao who made a surprise appearance at the ceremony, said the report. It was a rare reunion for Zhao, Lin and Fan Bingbing, who all acted in the 1990s hit My Fair Princess. Among the other stars who flew in for the wedding weekend were Shu Qi, Hu Ge, Zhou Xun, Nicky Wu and his wife, Liu Shishi.
Bali is indeed a popular tourist attraction because of it's beautiful beaches and resorts as well as its strong culture and traditions. However, many times it is difficult to have a personal moment when the venue become too crowded, unless you have the money to fully book the place as the supersatrs did. Don't worry, would you want a similar Bali styled wedding within a reasonable budget? a memorable ocassion indeed a lifetime experience, however if you really wants similar vibes with much affordable alternatives, you might wanto try to learn more about Bintan islands and inquire us for details here 🙂