Indonesia's Health Ministry has officially issue a travel warning and health advice for Indonesian nationals in Singapore, in an effort to raise awareness from the Zika virus. The virus as many foreign journalist in Singapore reported were initially detected among foreign workers, hundreds of thousands of whom, mainly from the Asian sub-continent, work on Singapore's construction sites and in the marine sector. The Singapore government however, has not said where the infected foreign workers are from and directed queries to their health ministry.
Zika was first discovered in Uganda in 1947. It caused clusters of human infections from the 1960s to 1980s across Africa and Asia, according to the World Health Organization.The recent outbreak in the Americas was caused by a Zika strain from Asia, possibly carried to Brazil through travel to a sporting event. Many experts believe once infected, Zika produces lifelong immunity.
The most common symptoms of Zika virus disease that many should be aware of are fever, rash, joint pain and red eyes. However in many case, it may not show any symptoms, but people may also experience: Pain areas: in the back of the eyes, joints, or muscles, Whole body: fatigue, fever, chills, loss of appetite, or sweating, Also common: eye redness, headache, skin rash, or vomiting.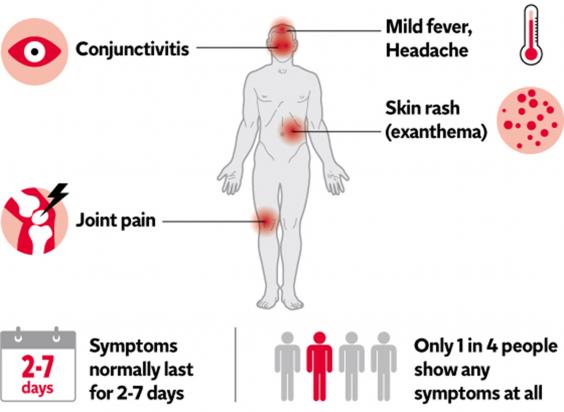 The travel warnings issued for Singapore could have a negative impact on tourism in Riau Islands as most foreign tourists enter the Indonesian province through the city state. Most tourists visit Riau Island's famous destinations mainly Batam, Bintan and Karimun through Singapore. Funnily, Batam city island's as the main ports.towards Singapore, is not yet installing the feverscan camera system, although the Indonesia's main airport in Soekarno-Hatta airport in Jakarta already operating this device since last months.
Despite of inter-government effort to contain this outbreaks, today an Indonesian woman has been infected with the Zika virus in Singapore, in the first case of the disease affecting an Indonesian national, the Indonesian Foreign Ministry confirmed on Thursday (Sept 1). Interestingly, the Indonesian haze which is currently recurring could possibly be the antidote to contain Zika throughly in Singapore?. Should Indonesian government stop the ongoing artificial rain in Sumatera as an effort to reduce and killed off the mosquitos in Singapore?
Foreign Ministry spokesman Arrmanatha Nasir said the information was communicated by the Singapore Ministry of Health to the Indonesian Embassy. The woman, whose identity were not disclosed by officials, is currently receiving treatment at a hospital in Singapore. The Singapore's Health Ministry had only stated that she was Indonesian and female.
At Unity Pharmacy in Singapore, sales of mosquito repellent sprays, patches, bracelets, lotions, wipes and clip-ons have tripled across all of its 59 outlets.
"Since news on the Zika outbreak, we have restocked the mosquito repellent items at our outlets more frequently. From once a fortnight on average, we now restock all mosquito repellent items on a daily basis to meet the increased demand," a spokesperson for NTUC Health, which runs Unity Pharmacy, said.
The Indonesian Health Ministry's disease control director-general Muhammad Subuh said on Monday that immigration officials would start requiring people arriving from Singapore to fill in health alert cards to assist with early detection of the virus and to limit its spread.
The outbreak and advisories come as the tourism industry in one of the world's busiest travel hubs already faces weak global economic growth. Singapore's Tourism Board said it was premature to consider any impact on the sector, adding it remained a "safe travel destination".
More than 55 million people pass through Singapore's Changi airport every year. In the first half of this year, tourism arrivals topped 8 million, around 1 million more than a year earlier.
The mosquito-borne Zika virus, which has caused explosive outbreaks in the Americas and the Caribbean since late last year, poses a particular risk to pregnant women because it can cause microcephaly, a severe birth defect in which babies are born with abnormally small heads and underdeveloped brains.
Aside from the virus, the crackdown on a terrorist cell in Batam in July, still influence Batam city island's economy indirectly. Although, Batam city island has proven to be the only safe haven to live on such outbreaks in Singapore, but how long will it last?. A fast containment and responsive effort is now demanded by the neighbouring ASEAN leader towards Singaporean government. Interestingly the Indonesian haze which was exported to Singapore last year is one of the antidote to contain Zika throughly.
---
http://www.reuters.com/article/us-health-zika-singapore-idUSKCN1150HM
http://www.straitstimes.com/asia/se-asia/jakarta-says-one-indonesian-woman-infected-with-zika-virus-in-singapore
http://www.channelnewsasia.com/news/singapore/spike-in-sales-of/3088222.html
http://www.straitstimes.com/asia/se-asia/indonesia-officials-say-zika-cases-in-singapore-threaten-tourism-in-batam-bintan